The app uses profit triggers to signal whether the item is a 'Buy' or a 'Reject' based on profit and important factors such as, Sales Count, Rank, Number of Offers, and Price. It will play a sound and display a message based on the result.
Configure Profit Triggers
Tap a row (A) to edit a profit trigger.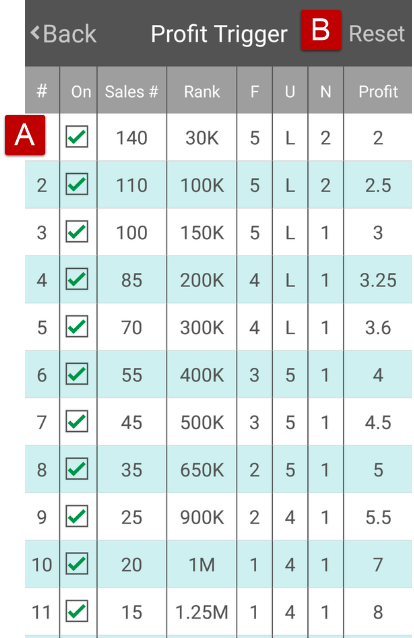 1. Consider sales count and sales rank (C). You can tap on each value to modify it.
2. You can edit (D) the number of offers a profit trigger will consider by tapping and modifying "All, Used, New" and Offers less than <.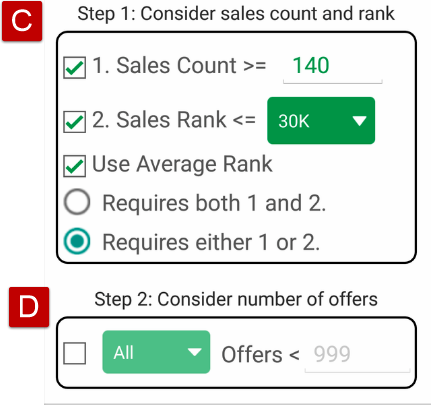 3. Choose the lowest price by selecting the listed offer position (E). The Offer Position will be used as the targeted price.
4. Then select your options (F) to compare the target price with Used Buy Box, along with the New Buy Box/Amazon price (G).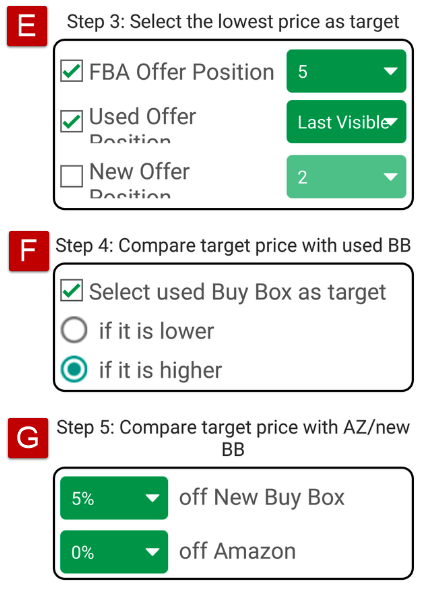 5. Insert the price you want the target price (H) and select between FBA or MF.
6. Modify (I) the color, sound and message you wish to receive for this trigger.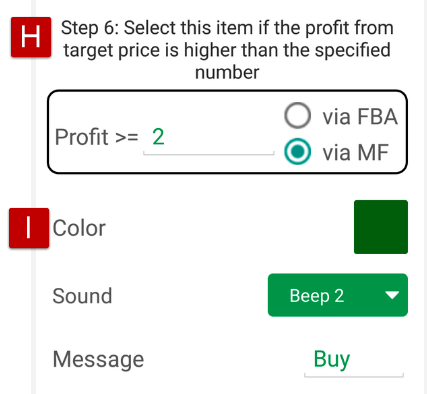 How the Profit Triggers Work
Based on (A), the app will select an offer's profit from the item's available offers.
The app will start by checking the trigger of the first row. If the selected offer of this item's criteria is >= the sales count and/or sales rank (C), falls within the parameters set by the targeted price (E-G) and the profit is >= the value (H) in the first row, then this trigger will signal the item as 'Buy',
If this profit trigger cannot signal 'Buy', the app will check the profit trigger of the next row.
The app will repeat this process until either a profit trigger signals this item as 'Buy', or it goes through all the selected profit triggers. In that case, the app will signal this item as 'Reject'.
Feedback
Thanks for your feedback.