You can tap on the BUY/REJECT to review the trigger results of the item. Here is a video.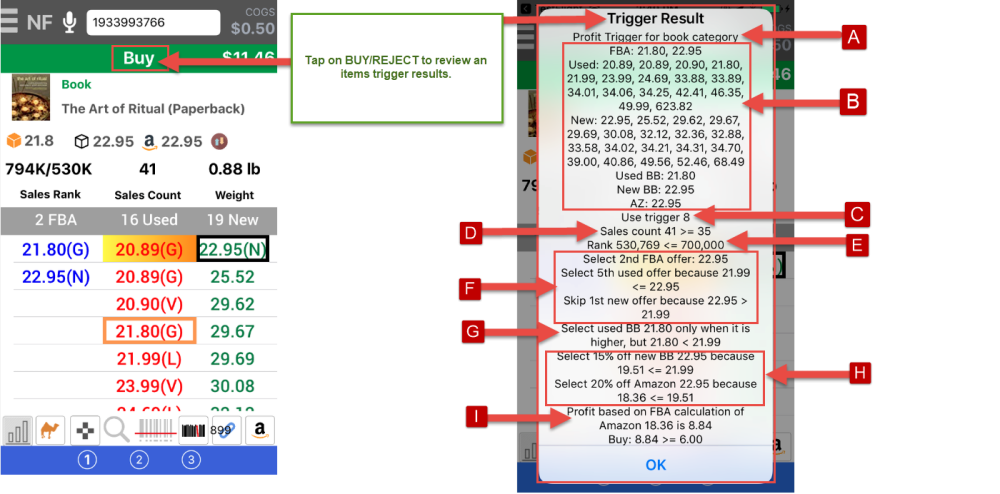 How to read Trigger Results
1. The type of trigger (A) and category used is identified, followed by the item's list of offers (B) in FBA, Used and New column pricing display, including the Used BuyBox, New BuyBox, and Amazon Price. The trigger # that was used is displayed (C), along with the triggers set parameters.
2. The item's Sales Count was greater than or equal to the trigger's Sales Count (D). The item's Sales Rank (E) was less than equal to trigger's Sales Rank.
3. The lowest price (F) as the target price was determined by the 5th Used offer compared against the 2nd FBA offer and the 1st New offer.
4. The next step compared the target price with (G) the used BuyBox price of the item. Profit trigger 8 was set to select the Used BuyBox as a target if the lowest price is higher than the Used BuyBox, which it was not.
5. The 5th step was to compare (H) the target price with Amazon and New BuyBox price based off 15% for New BuyBox, or 20% for Amazon price.
6. Ultimately, the profit (I) was based on Fulfillment by Amazon. As shown, if the item were to be listed at $18.36 which was caculated with a profit of $8.84. And since the profit is greater than or equal to the profit set by trigger 8 (C), the item was signaled as Buy.
Feedback
Thanks for your feedback.